Experienced Houston, TeXas Civil Law Attorney You Can Count On
Legal disputes can be some of the most trying experiences you will ever have. It does not matter if it is personal or related to business, your goal should be to resolve the matter as quickly as possible, but to ensure you are treated fairly and your rights are protected. An experienced civil law attorney will make sure this is the case. Working with an attorney means you will have a valuable resource on your side – someone who understands the law and knows how it is interpreted and applied in cases similar to yours. If you are involved in a civil legal matter and you are not sure where to turn,
Dan Hollaway
can help. Responsive Civil Attorney Provides Guidance and Support
Are you looking for assistance with a civil law matter?
Do you need assistance drafting or defending a contract? When a contract is violated, it can cost you time and money, and you might need to file an action for breach of contract.

Were you injured in an accident? You will need to prove that you suffered damages and that the party you claim is responsible actually is.

Are you struggling with matters related to personal property or real estate? This might include tangible things, such as jewelry, and intangible, for example, copyrights or securities.

And finally, have family legal matters arisen? Issues related to marriage, divorce, custody of children, adoption problems, and other nuances of domestic relations can create an upheaval in your life. You need an attorney who understands the laws in Texas and can help you through these very personal legal situations.
Houston, TX Civil Law Attorney Offers Advice Civil law covers a variety of legal issues that you might face throughout your lifetime. When these matters arise, it is up to those involved to sort through their problems. Often, this involves going to court.
Many legal disputes can be avoided, though, with careful planning. As an experienced Houston, TX civil law attorney, we are able to offer representation in court, as well as transactional services that can help you avoid legal issues. For instance, we will assist you with drafting documents and ensure they would be considered airtight in a courtroom. We are able to provide guidance with any of the following:
Drafting and defending contracts

Personal injury matters

Real estate and personal assets

Divorce, custody, and other family legal issues
Contact an Experienced Houston, TX Civil Law Attorney to Help You Our firm delivers a wide array of corporate, regulatory, and litigation services. We have more than 40 years of combined experience representing existing businesses, entrepreneurs, and numerous health care providers. It is our belief that exceptional results are the product of effective teamwork and communication between attorneys and clients. When a legal issue arises, you have option. As an experienced civil law attorney, Dan Hollaway is able to explain those options and help you understand what choices would be in your best interest.
For more information or to schedule a consultation with Dan, contact him at
713.942.7900
.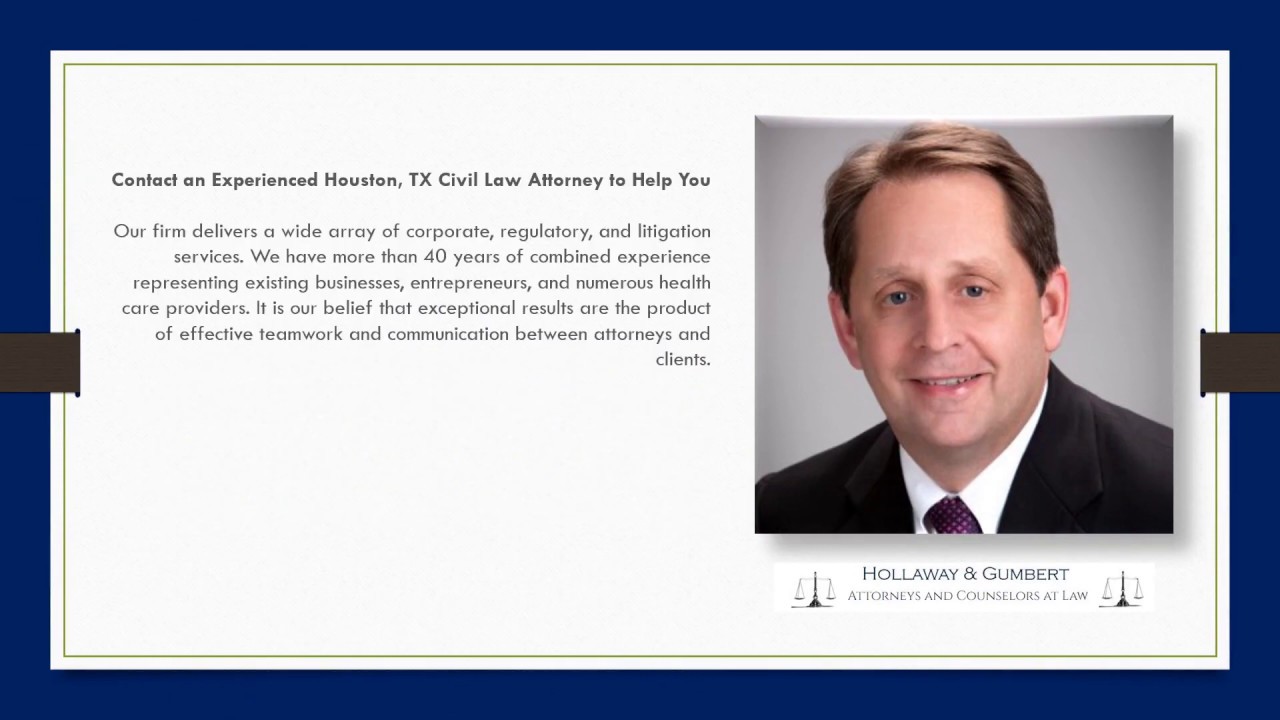 Contact us for a consultation